Pledge to Protect ALICE® and Vulnerable Pennsylvanians during the COVID-19 Pandemic!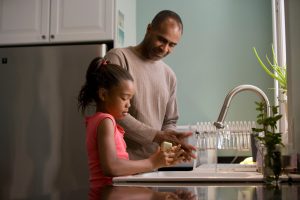 United Way of Pennsylvania is asking you to Pledge to Protect the ALICE (Asset Limited, Income Constrained, Employed) Community and all Vulnerable Populations in Pennsylvania during the COVID-19 Pandemic and Beyond.
The rapid spread of the novel coronavirus, COVID-19, is showing critical areas of need for our economy, health care system, and education capacity during a national crisis. No one is immune to its direct or indirect effects, and we're increasingly seeing conversations focus on those most vulnerable to these disruptions, including the millions of hardworking Pennsylvanians living paycheck-to-paycheck, the people we know to be ALICE.
ALICE households earn more than the Federal Poverty Level (FPL), but less than they need to pay for basic essentials. They often earn too much to qualify for government assistance and there is no room in their household budgets for emergency expenses.
ALICE is the fabric of our communities. ALICE may be the office worker in the local school district, the teacher at your local child care center, or a retail associate in your nearby mall. Due to closures statewide, Pennsylvania ALICE will experience loss of hours, wages, tips, and gigs. Many ALICE occupations cannot be performed through remote work, and for the occupations that must continue during the pandemic, ALICE is faced with risking their health or losing their income.
In Pennsylvania, 1 in every 4 households are ALICE. Nearly 2 million households across the Commonwealth are struggling to survive, and this number is expected to increase drastically with the current workforce and economy struggles due to COVID-19. United Ways are standing up to support our communities in every way possible, including working toward solutions to assist ALICE and our most vulnerable populations during this time.
Stand with United Way of Pennsylvania in our advocacy and call for a coordinated effort of nonprofits, the government, and communities to support ALICE and all vulnerable populations in Pennsylvania during this trying time. Your signature matters to the elected officials who are working on current policy discussions and budget appropriations! We must STAND UNITED to ensure Pennsylvanians and our communities have the resources to overcome the impacts of the COVID-19 pandemic.
Take the Pledge Today!