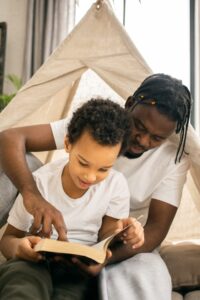 Local United Ways are helping their communities close gaps in reading proficiency in 2023! United Ways Read 2023 is a curated list of local Reading Programs hosted by our Pennsylvania United Ways.
More than 80% of children from low-income families are not proficient readers by the 3rd grade. Being able to read at grade level sets a student up for success and minimizes the odds that they will drop out of high school. Students who do not complete high school often find they lack the skills to become engaged members of the workforce and leaders in their communities.
Early intervention is key in helping students pursue foundational skills that pave the way to a brighter future. Local United Ways are a key part of that solution. If you are interested in what some of our United Ways are doing in to celebrate National Reading Month (and to help children succeed all year long) check out our list below!
Join Pocono Mountains United Way in our commitment to racial and ethnic equity through our Diversity, Equity and Inclusion work by participating in our United We Read Book Drive. Our focus is to collect all types of books including those with diverse characters, authors and illustrators of color to be gifted to children in Monroe County. We believe that children in our community should see themselves reflected in the books they read.

Make a difference in a child's life by donating books one of two ways:

Host a book drive within your company or community organization. Contact Roxanne@PoconoUnitedWay.org to learn more.
Donate money using our online donation page. At the conclusion of the drive, we will use all the donations to purchase more books.
United Way of Berks County: Ready.Set.READ!

United Way of Berks County's Ready.Set.READ! (RSR) programs increase the number of Berks County students reading proficiently by the end of third grade. Star Readers tutors work with first and second graders to provide extra support to build reading skills. Growing Readers focuses on kindergarten readiness by partnering with Reading-based childcare centers to retain Early Childhood Educators. In partnership with Read Alliance, high school students are paired with first grade students, and this dual impact program provides teens with valuable leadership skills and a paid work experience, while the elementary students achieve measurable progress in reading. Read With Me promotes family reading through a book sharing program. By partnering with schools, businesses and volunteers, RSR improves early grade reading success and paves the way for academic and life success.
Towanda Public Library has started up their Spring Story-time. Starting Wednesday, February 15th children ages 0 to 5 will meet for an hour jam packed of stories, songs, and an art/craft activity. Each week Miss Katie will pick books and songs to go along with a theme. Children will also enjoy singing their ABC's, learning their shapes, enjoy watching Scat the Cat magically change colors, and count 1-20. After stories Miss Katie will have an art/craft project for the kids to do that follows their theme for the day. This is a great time for children to socialize, play, and learn while playing. It is also a great opportunity for parents and caregivers to come together and chitchat as well. Our Spring Story-time is a 10 week program and will end on April 19th. For more information you can call 570-265-2470 or email kpatton.tpl@gmail.com
Ready for School Ready to Succeed

The Ready for School, Ready to Succeed initiative prepares children academically and socially for kindergarten. The program employs education liaisons who engage children and families with weekly school readiness workshops, held in partner school districts in our tri-county service area. Through our work with community partners, our goal is to increase the number of children ready for school and improve reading proficiency by third grade.

Promotion of School Readiness and Reading Proficiency

Literacy Kits: includes a book, lessons, and activities
Activity Bags: includes a book, craft activities, and supplies
Book Drives: book donations for program participants
Home Libraries: multi-age group books for families
Holiday Books: wrapped books for families
Spring Into Reading Fest 2023

United Way of Lebanon County is proud to once again partner with the Library System of Lebanon County to present Spring Into Reading Fest 2023. This weeklong free family literacy program is sponsored in part by the Kiwanis Club of Lebanon and coincides with United Way of Lebanon County's annual Day of Caring.

Beginning Monday, April 24, 2023, daytime events will be offered at all public libraries throughout Lebanon County and will highlight the importance of early literacy development in preschoolers ages 3-6. The events will include stories, songs, crafts, & activities promoting the 2023 Pennsylvania One Book, Every Young Child selection Mel Fell by Corey R. Tabor.

Event Times and Locations*:

Monday, April 24, 2023:

10:30am at Palmyra Public Library | 50 Landings Drive, Suite B, Annville, PA 17003

Tuesday, April 25, 2023:

10:15am at Annville Free Library | 216 E Main Street, Annville, PA 17003

10:30am at Lebanon Community Library | 125 North 7th Street, Lebanon, PA 17046

Wednesday, April 26, 2023

10am at Matthews Public Library | 102 West Main Street, Fredericksburg, PA 17026

Thursday, April 27, 2023

10am at Matthews Public Library | 102 West Main Street, Fredericksburg, PA 17026

1pm at Richland Community Library | 111 E. Main Street, Richland, PA 17087

*Event times and locations subject to change. Updates will be available at https://lclibs.org/.

As part of United Way of Lebanon County's focus to ensure that all Lebanon County children have a strong start in life, participants will receive a free bag of books to take home to encourage and promote family reading, parent-child bonding and kindergarten readiness.

Mel Fell by Corey R. Tabor has been named the 2023 PA One Book Early Literacy selection. In its 18th year, the Pennsylvania One Book program promotes the value and benefits of reading early and often to preschoolers. PA One Book is a statewide initiative that encourages family engagement through books and offers activities designed to build key language, literacy, and social skills.
Mifflin County Library

Each week at the conclusion of storytime children and their caregivers are invited to stay to participate in learning-through-play stations. The children are encouraged to visit three to four different self-directed STEM stations which encourage discovery through an interactive learning experience. Each station is aligned to the Pennsylvania's Learning Standards for Early Childhood with the goal of promoting early learning skills with the library setting.

Take & Make Activities

The children's department of Mifflin County Library offers small crafts/STEM activities for an individual child to pick up at the library to take home to complete. Each activity contains the necessary items to complete the activity with the exception of crayons, scissors and glue, which most households are able to provide. These activities are designed to promote children's hand eye coordination and fine motor skills which are important skills for entering kindergarten.
Virtual Reading Buddies Program

As a result of the pandemic, United Way of Wyoming Valley's in-person Reading Buddies program was able to transition to a virtual platform to make volunteering safe and convenient for everyone. Every week from October through April, volunteers from the United Way guide students through a fun, 30-minute virtual learning session called Virtual Reading Buddies.

During these sessions, students are able to practice sight word recognition, read and discuss their assigned books, and play an educational literacy game. Our Reading Buddies virtual program matches first-graders with volunteer mentors to help them improve their early literacy skills, boost their self-confidence, and receive a free book to enjoy at home.

Join United Way of the Wyoming Valley for the Wyoming Valley's 2nd Annual largest reading challenge! Together with a few thousand of our friends, we are turning the month of March 2023 into a reading extravaganza!

It's free and easy to pledge your minutes. All ages are welcome. Here's how to get started:

Register yourself, a child, your classroom, your office, as a book club, or the whole family!
Share about Million Minute Challenge with family, friends, and on social media using #UWWVMillionMinute!

You can read anywhere – school, home, park, or even waiting in the dentist's office! You can read anything – books, magazines, comics, novels, or online articles. It all counts!

To pledge your minutes, visit the Million Minute Challenge Website at www.unitedwaywb.org/mmc.

Community Helpers Guest Readings

In celebration of our 2nd Annual Million Minute Challenge and National Read Across America Week, the United Way of Wyoming Valley is currently organizing a video series of "Community Helpers" reading a children's book. We want to highlight people in their work environment… doctor, police officer, fire fighter, construction worker, judge, librarian, etc.

This video series will be available on our website, social media pages, and will be available for teachers to share with their classrooms. Our target audience is Pre-K to 3rd grade.

The guest readings will showcase our Community Helpers describing their occupation for a young child and make the connection about how important education and reading were to help them get to where they are today. Then once they read the book, they will encourage the children to keep reading.

We are asking our readers to wear their daily uniform and use any props that would help the children make the connection of what their job is within the community!

So please keep an eye on our social media platforms for the upcoming video guest readings!
Dolly Parton's Imagination Library

Dolly Parton's Imagination Library has become a staple program of Venango County United Way. Currently there are over 1300 children enrolled throughout Venango and Forest Counties.

Beginning in January of 2022, United Way of Venango County entered into a partnership with the Northwest Hospital Foundation of UPMC Northwest. The staff at the hospital include an enrollment form in the paperwork of all newborns, and they receive the first book at the hospital when they register for the Imagination Library. In 2022, over 300 were newborns registered for the Imagination Library before then even left the hospital.

We also continue to support other community events that promote literacy. The Oil City Library hosts a "Festival of the Book" each August, and we make sure to attend the event. Children can register for the Imagination Library right at the table, and we also distribute books to any child who attends.

United Way of Venango County also partnered with the Barrow Civic Theatre during their Youth Production of "Rainbow Fish: The Musical". Members of the cast read the book to crowds of children and their families, and then the children were able to make a rainbow fish craft of their own! They also each received a book to take home for their own libraries.

Summer of 2023 will also mark the fourth year United Way of Venango County has sponsored Success by 6. These six week sessions have been held in multiple districts in our county, and each session promotes kindergarten readiness and literacy. We were also able to give each child who attended the program several books throughout the 6-week session.
#YorkReads Early Literacy Programs

United Way of York County is committed to getting books into the hands of children in our community. Having age-appropriate books in the home is one way to stay on track to reading proficiently by the end of third grade, which is one of the earliest indicators of long-term school success. We have created several initiatives that get books into the hands of children and encourages reading at home.

New and used children's books can be dropped off at our office at 140 E Market Street, Mondays – Fridays between the hours of 8 a.m. and 4 p.m.

Reach Out & Read

At every well visit, children ages 6 months through 5 years old receive a new book to take home with them. Medical providers model reading and share tips with caregivers. Reach Out and Read serves Family First location in downtown York, Hannah Penn, Lewisberry, and Hanover. 5,188 books have been distributed since 2018.

Little Free Libraries

Little Free Libraries are strategically placed freestanding book-sharing boxes that are catalysts for improving reading and deepening community connectedness. There are currently six United Way Little Free Libraries located in York City, Red Lion, and Dover where 1,220 books were distributed in 2022.

Reading Challenges

The Early Literacy Read to Me Challenge and Early Literacy 100 Book Challenge are pre-literacy programs that encourage reading to children every day from age 1 through age 5. During the 2021-2022 school year, 39 classrooms participated from Crispus Attucks, York JCC, YMCA Hanover, York Day Early Learning, YMCA of the Roses, YWCA York, and YWCA Hanover where 624 students read 110,307 books.

Reading Ready Corners

Reading Ready Corners reach children who otherwise may not have access to age-appropriate books. Bookshelves are placed and filled in offices where families wait for an appointment or service, to encourage parents and children to read together and take a book home with them. Through 11 Reading Ready Corners and community events, 4715 books were distributed in 2022.