Tuesday, February 28, 2023
98% of PA Voters Believe Early Childhood Education is Important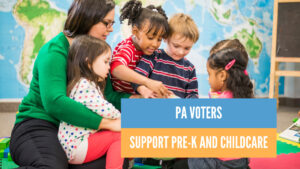 A poll, commissioned by the Early Learning PA Coalition and conducted by Susquehanna Polling and Research from February 1-7, 2023, found that 98% of PA voters believe that early childhood education is important. It also showed strong voter support for increased investment for early care and education programs like pre-k, high-quality child care and home visiting services. Voter's overall support has grown several percentage points since a June 2022 poll, when 90% of voters said they found early childhood education to be important.
According to the poll, 78% of PA voters support increasing state funding to serve more eligible children in pre-k programs, which is an increase from 65% in 2022. Seventy-eight percent of PA voters also support increasing state funding to help more low-income working families afford high-quality child care, up from 67% in 2022. Support for increasing state funding to provide voluntary home visiting services to eligible families was 62% of PA voters (up from 60% in 2022). The poll also found that 81% of PA voters favor allocating state funding to increase wages of child care workers.
Click here to learn more!