Friday, August 25, 2023
Maui United Way Fire Disaster Relief Fund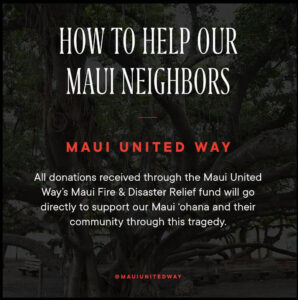 The wildfires that struck Maui, Hawaii on August 8 have killed at least 114 people to date. It's the deadliest wildfire in modern U.S. history, destroying hundreds of homes, businesses and schools, and thousands of acres of land. Officials estimate rebuilding costs will exceed $5 billion.
Maui United Way has launched the Maui Fire Disaster Relief Fund to provide immediate support for those in need of shelter, food, clothes and more. United Way is working with partners on the ground to assess the damage, mobilize resources and lead collaborative efforts to rebuild. Maui United Way has begun issuing direct payments to individuals impacted by the wildfire.
If you can donate to help, please consider making your contribution to Maui United Way using the link below.