Friday, March 27, 2020
PA 211 and United Way: Here for Pennsylvania Through the COVID-19 Crisis and Beyond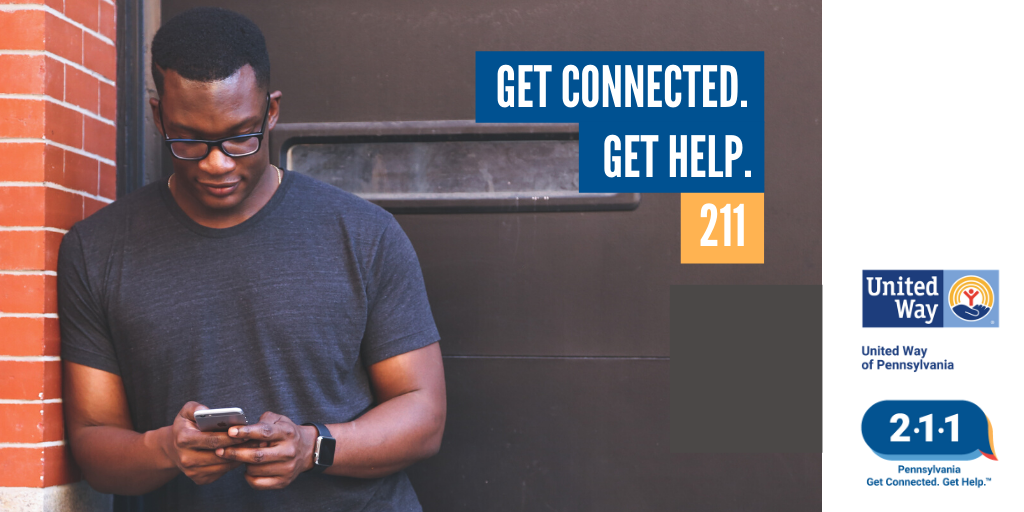 United Way of Pennsylvania and PA 211 launched an informational campaign by text to keep Pennsylvanians connected to verified sources of information on Coronavirus and resources to help households struggling with a loss of income. This is in addition to live-answer text and call services by PA 211, and local fundraising by United Way for emergency needs that support PA communities in unprecedented times.

"During the last week, PA 211 has seen more than double its normal contact volume, seven days per week," according to Debbie Reihart, PA 211 Executive Director. "In order to serve the many more Pennsylvanians who are struggling with basic needs, or have questions about COVID-19, Pennsylvanians can now text PACOVID to 898-211 to opt into a text message push campaign with links to vetted sources of factual information."

Pennsylvanians who need to have a live, two-way conversation with a 211 community resource navigator can continue to access help by texting their zip code to 898-211. They can visit www.uwp.org/211gethelp for statewide, regional and local resources. Text and web site are the quickest way to access help while 211 experiences higher-than-usual call volumes, but Pennsylvanians can also dial 211 on their land line or mobile phone to be connected to a resource navigator.

Individuals with immediate needs related to the COVID-19 crisis can also access resources and
updates on https://www.uwp.org/pacovid/. This page guides members of the public with the
latest information on relief legislation, breaking news, and resources to access help with basic
needs like housing, food, and utility assistance.

"We encourage all Pennsylvanians to do everything within their means to not only mitigate the
spread of this virus, but also to give generously as they are able to help support the millions of
Pennsylvanians who are losing income, who stand on the front lines of the response every day,
and those at risk in our communities before, during and after the COVID-19 crisis," said Kristen
Rotz, President of United Way of Pennsylvania.

Pennsylvanians who are uncertain where to give can consider one of the local COVID-19
response funds that have been set up across the state by local United Ways. Links to those
funds are available at https://www.uwp.org/covid19support/.

This is also a challenging time for nonprofits in Pennsylvania, especially those which provide
life-sustaining and essential services. This includes the network of charitable food banks and
pantries, homeless shelters, domestic violence shelters, and residential facilities caring for
vulnerable populations including children and seniors.

"To support all nonprofits, United Way of Pennsylvania has created a Nonprofit COVID-19
resource hub which is updated daily with need-to-know information, especially policy decisions
that impact the operations of these nonprofits, and the Pennsylvanians they serve. This
information will be curated several times per day until the crisis ends," Rotz said.
The nonprofit resource hub can also be accessed at
https://www.uwp.org/covid19nonprofithub/.

All people-serving organizations – human service agencies, churches, community service
organizations – are urged to update their information for the PA 211 resource database as
services change. Those who are already familiar with how to request changes through their
regional 211 provider and the online 211 database should follow that protocol. All others are
invited to submit their information through a Google form located at www.uwp.org/211gethelp.

Pennsylvania 211 is a statewide telephone, text and self-serve web search for health and human
resources that is available 24/7/365. In 2019, PA 211 received more than 200,000 unique
contacts. 211 is a national network serving more than 95 percent of the US population.

United Ways have been long-standing supporters and the national leader of the 211 movement
in partnership with AIRS (Alliance of Information and Referral Systems). As the largest private
funder of the 211 network in Pennsylvania, United Ways continue to strengthen and support 211
as another way to build stronger communities and create opportunities for all.

To reach PA 211, text your zip code to 898-211 or dial 211 from your phone. A guided search
for community resources is also available at https://www.uwp.org/211gethelp/. PA 211 call
volume and needs information can be accessed at www.pa.211counts.org