Thursday, February 11, 2021
Record-Breaking Numbers of Pennsylvanians Turned to PA 211 Network for Help in 2020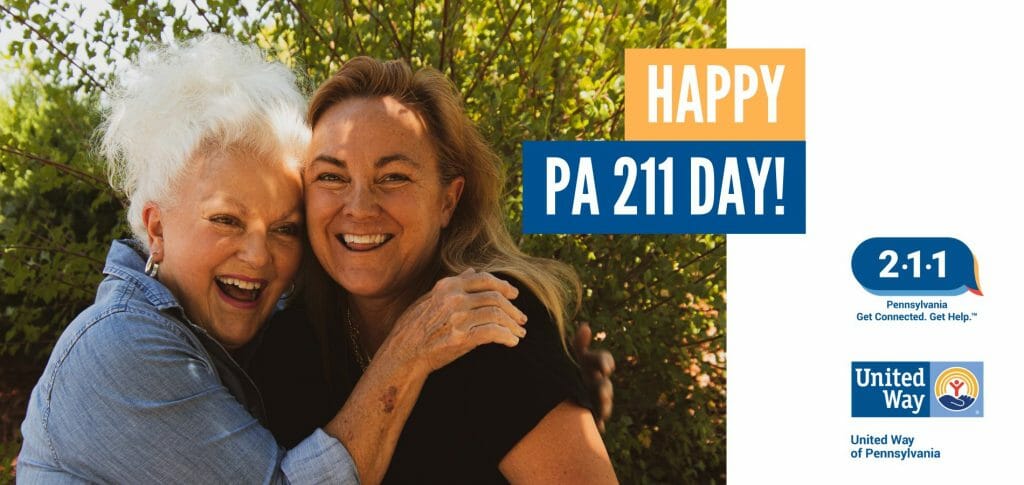 Harrisburg, PA – On February 11, PA 211 Day, United Way and the Pennsylvania 211 network are celebrating the ability to connect from hello to help for more than 430,000 individuals who sought help via phone, text, or web search, and re-committing to be there for Pennsylvanians as our state builds back from the pandemic.
211 is the free, confidential, 24/7/365 service that connects Pennsylvanians with all the health and human services in their area that are available to help. In 2020, more than 260,000 people called or texted 211 for help. PA 211 also offers individuals the ability to search for assistance at www.pa211.org. More than 170,000 users searched PA 211's publicly available community resource database.
"PA 211 helped make sure homebound individuals could get home-delivered groceries and meals. PA 211 partnered with county government to connect people to factual information about COVID-19. PA 211 helped provide financial assistance to families struggling from loss of work. The last 12 months proved that PA 211 is highly-adaptable to meet the needs of individuals in our communities and to provide a reliable place to turn for help in the midst of uncertainty," said Kristen Rotz, President of United Way of Pennsylvania and Executive Director of PA 211.
PA 211's dedicated contact center staff shifted to remote operations, and continued to provide trained, empathetic resource navigators. PA 211 provided its statewide resource database as a backbone to deliver up-to-the minute information about available services and volunteer opportunities available.
As a result of being at the center of locally-driven pandemic response across the state, PA 211 has the best real-time data on needs of individuals in the Commonwealth. PA 211 Counts (https://pa.211counts.org) is a dashboard to understand these needs in counties, legislative districts, and regions across the state.
"Historical needs for housing, food and utility assistance increased exponentially during 2020. This includes 70,000 first time callers who never had to ask for help before and chose to connect with 211 when the pandemic changed things. Now, more people are requesting new connections to mental health and other health related services as Pennsylvanians realize the impacts of stress, trauma and social isolation," said Emily Aubele, statewide Quality Assurance Director for PA 211.
PA 211 has a steadfast commitment to connect people in need to resources that are available. This includes helping communities maximize the recently-passed federal stimulus support for housing and utility assistance.
"Thanks to partners like United Way, the General Assembly, and more than 9,500 agencies delivering services across the state, PA 211 will continue to be here as vaccine deployment opens the door to build a stronger future for our communities. We will continue to be here to help address social determinants of health by connecting individuals to housing, health resources, utility assistance, food. We will continue to provide current data on needs, including unmet needs. We will do our part to support equity and equal opportunity for all Pennsylvanians, because PA 211 is for everyone," Rotz said.
To reach PA 211, dial 211 from your phone or text your zip code to 898-211. A guided search for community resources is also available at www.pa211.org.
Timeline of PA 211 COVID-19 response with data and quotes from 211 customers as well as the resource navigators who provide help: www.pa211.org/covidresponse
PA 211 Counts Community needs data, updated daily, can be sorted by county, zip code and legislative district https://pa.211counts.org/