Friday, August 4, 2023
We're Hiring!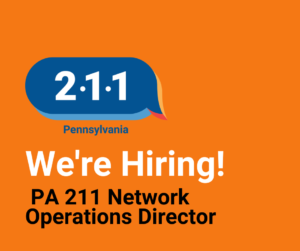 United Way of Pennsylvania is now hiring the PA 211 Network Operations Director position, responsibilities include, but are not limited to:
Maintain collaborative and supportive working relationships with PA 211 regional staff.
Work with regional PA 211 providers to align standard operating procedures, general information and referral workflows, and detailed data collection
Build training, data collection, monitoring/QA plans for multi-region or statewide initiatives of PA
Strengthen all components of the PA 211 network to harness mission-aligned contracts and partnerships by strengthening regional capacity for planning, operations, and project management
To learn more about this position and how to apply see below: PA 211 Network Operations Director Job Description and Application Instructions
Please email a cover letter and resume to info@uwp.org. Applications will be accepted and reviewed on
a rolling basis, with the application period concluding no later than August 25.