Who Is ALICE?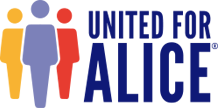 ALICE represents the 24% of Pennsylvanians who work, but struggle to survive. ALICE stands for Asset Limited, Income Constrained, Employed.
ALICE earns above the Federal Poverty Level (FPL), but makes less than what's needed to afford basic essentials. They often earn too much to qualify for government assistance, and there is no room in their household budget for emergency expenses. If you combine PA households earning below the ALICE Threshold with those living below the FPL, that's 37% of PA households that face financial hardship every day, in every county in PA. (2017 data)
The Response of PA United Ways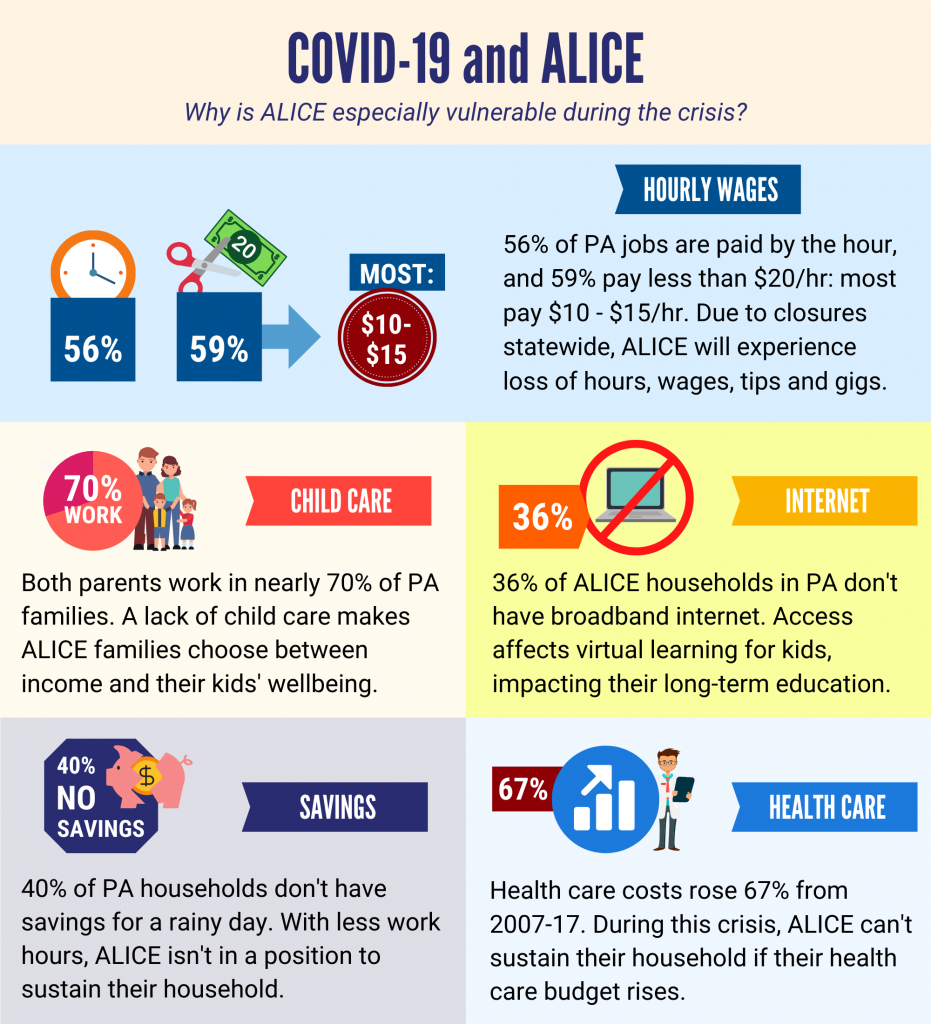 United Ways throughout Pennsylvania are committed to lifting up ALICE through community programs and advocacy.
Equipped with these tools, the PA network of United Ways convenes, advocates and innovates in our local communities to highlight the issues faced by ALICE households, and we generate solutions to help ALICE on their path to financial stability.
---
The Statistics by County and Township/Borough
Click on an area of the map to see where ALICE lives, and what it costs to provide household essentials for families in a community.
Below ALICE Threshold
27%
55%
Adams County, Pennsylvania
Above ALICE Threshold:
26,765 (68%)
Allegheny County, Pennsylvania
Above ALICE Threshold:
391,952 (73%)
Armstrong County, Pennsylvania
Above ALICE Threshold:
14,919 (56%)
Beaver County, Pennsylvania
Above ALICE Threshold:
45,799 (65%)
Bedford County, Pennsylvania
Above ALICE Threshold:
11,221 (57%)
Berks County, Pennsylvania
Above ALICE Threshold:
100,519 (65%)
Blair County, Pennsylvania
Above ALICE Threshold:
31,651 (61%)
Bradford County, Pennsylvania
Above ALICE Threshold:
15,333 (62%)
Bucks County, Pennsylvania
Above ALICE Threshold:
163,618 (68%)
Butler County, Pennsylvania
Above ALICE Threshold:
54,248 (72%)
Cambria County, Pennsylvania
Above ALICE Threshold:
33,979 (61%)
Cameron County, Pennsylvania
Above ALICE Threshold:
1,320 (60%)
Carbon County, Pennsylvania
Above ALICE Threshold:
14,802 (56%)
Centre County, Pennsylvania
Above ALICE Threshold:
33,397 (57%)
Chester County, Pennsylvania
Above ALICE Threshold:
138,439 (73%)
Clarion County, Pennsylvania
Above ALICE Threshold:
9,344 (59%)
Clearfield County, Pennsylvania
Above ALICE Threshold:
15,695 (54%)
Clinton County, Pennsylvania
Above ALICE Threshold:
7,815 (53%)
Columbia County, Pennsylvania
Above ALICE Threshold:
16,317 (61%)
Crawford County, Pennsylvania
Above ALICE Threshold:
22,340 (62%)
Cumberland County, Pennsylvania
Above ALICE Threshold:
67,459 (69%)
Dauphin County, Pennsylvania
Above ALICE Threshold:
72,467 (65%)
Delaware County, Pennsylvania
Above ALICE Threshold:
142,042 (69%)
Elk County, Pennsylvania
Above ALICE Threshold:
8,877 (66%)
Erie County, Pennsylvania
Above ALICE Threshold:
63,347 (58%)
Fayette County, Pennsylvania
Above ALICE Threshold:
29,240 (55%)
Forest County, Pennsylvania
Above ALICE Threshold:
750 (51%)
Franklin County, Pennsylvania
Above ALICE Threshold:
42,537 (70%)
Fulton County, Pennsylvania
Above ALICE Threshold:
3,725 (63%)
Greene County, Pennsylvania
Above ALICE Threshold:
8,432 (58%)
Huntingdon County, Pennsylvania
Above ALICE Threshold:
9,472 (56%)
Indiana County, Pennsylvania
Above ALICE Threshold:
18,784 (56%)
Jefferson County, Pennsylvania
Above ALICE Threshold:
11,186 (61%)
Juniata County, Pennsylvania
Above ALICE Threshold:
5,627 (60%)
Lackawanna County, Pennsylvania
Above ALICE Threshold:
51,262 (59%)
Lancaster County, Pennsylvania
Above ALICE Threshold:
134,057 (67%)
Lawrence County, Pennsylvania
Above ALICE Threshold:
21,843 (58%)
Lebanon County, Pennsylvania
Above ALICE Threshold:
33,681 (64%)
Lehigh County, Pennsylvania
Above ALICE Threshold:
87,968 (63%)
Luzerne County, Pennsylvania
Above ALICE Threshold:
75,818 (60%)
Lycoming County, Pennsylvania
Above ALICE Threshold:
26,409 (57%)
McKean County, Pennsylvania
Above ALICE Threshold:
10,422 (61%)
Mercer County, Pennsylvania
Above ALICE Threshold:
28,112 (61%)
Mifflin County, Pennsylvania
Above ALICE Threshold:
10,945 (58%)
Monroe County, Pennsylvania
Above ALICE Threshold:
33,822 (59%)
Montgomery County, Pennsylvania
Above ALICE Threshold:
221,436 (70%)
Montour County, Pennsylvania
Above ALICE Threshold:
4,516 (61%)
Northampton County, Pennsylvania
Above ALICE Threshold:
69,399 (61%)
Northumberland County, Pennsylvania
Above ALICE Threshold:
22,330 (59%)
Perry County, Pennsylvania
Above ALICE Threshold:
12,176 (68%)
Philadelphia County, Pennsylvania
Above ALICE Threshold:
274,501 (45%)
Pike County, Pennsylvania
Above ALICE Threshold:
13,750 (64%)
Potter County, Pennsylvania
Above ALICE Threshold:
3,244 (50%)
Schuylkill County, Pennsylvania
Above ALICE Threshold:
33,400 (58%)
Snyder County, Pennsylvania
Above ALICE Threshold:
8,604 (59%)
Somerset County, Pennsylvania
Above ALICE Threshold:
17,491 (59%)
Sullivan County, Pennsylvania
Above ALICE Threshold:
1,525 (58%)
Susquehanna County, Pennsylvania
Above ALICE Threshold:
10,909 (63%)
Tioga County, Pennsylvania
Above ALICE Threshold:
9,940 (62%)
Union County, Pennsylvania
Above ALICE Threshold:
7,774 (53%)
Venango County, Pennsylvania
Above ALICE Threshold:
13,503 (62%)
Warren County, Pennsylvania
Above ALICE Threshold:
9,957 (58%)
Washington County, Pennsylvania
Above ALICE Threshold:
52,047 (64%)
Wayne County, Pennsylvania
Above ALICE Threshold:
11,314 (59%)
Westmoreland County, Pennsylvania
Above ALICE Threshold:
103,774 (69%)
Wyoming County, Pennsylvania
Above ALICE Threshold:
6,439 (60%)
York County, Pennsylvania
Above ALICE Threshold:
116,648 (68%)
Click on a county for additional information